Introduction to Keyword Trends & Emerging Keywords
We have officially launched the two powerful new features for keyword analysis.
13 June 2023
Dear dotDBers,
We are thrilled to announce the official launch of "Keyword Trends" and "Emerging Keywords"! In addition, we've also introduced a brand-new section titled "Keywords", which is accessible from the the link here or via the upper menu on dotDB's website.This section thoughtfully integrates the current "Top Keywords Report" with the two new features, "Keyword Trends" and "Emerging Keywords", creating a comprehensive and insightful tool for all things keyword-related in the domain name industry.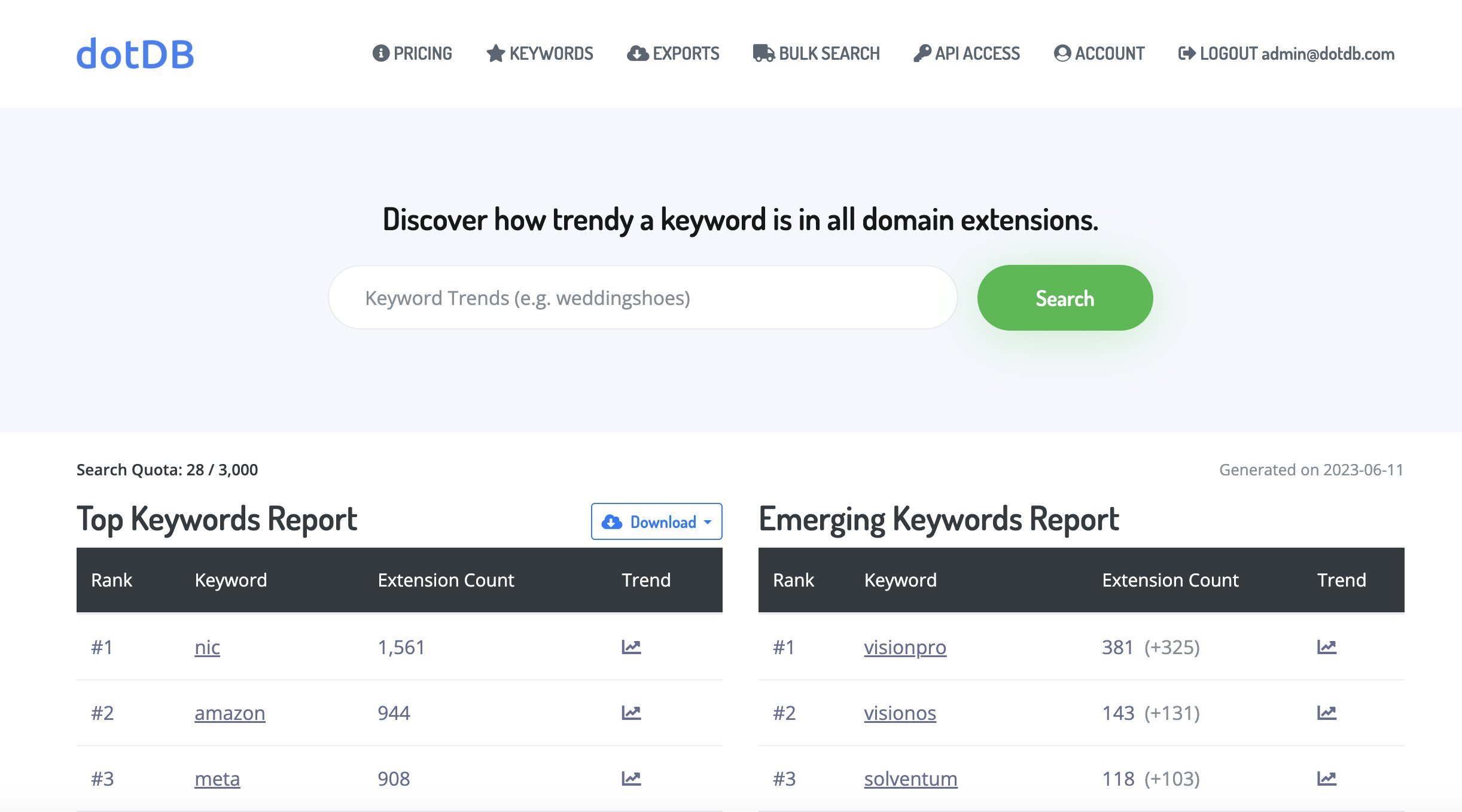 The possible applications of Keyword Trends
To assess the popularity of a new trend, one approach we can adopt isn't merely examining Google Trends, but also tracking the number of domains registered with the associated keyword over time. "Keyword Trends" is perfectly suited for this purpose, providing a means to oversee the ongoing trend of domain registrations containing the specific keyword.
To illustrate, the concept of "Spatial Computing" didn't get much attention until Apple introduced its pioneering spatial computer, "Vision Pro." This development was evident in the surge of domain registrations related to spatial computing. Prior to Apple's launch, the number of domain extensions associated with spatial computing was minimal, barely reaching 30. However, in just the past week, there has been a dramatic rise in domain extension counts, which soared to a high of 117. This shift indicates a significant trend: numerous investors and early adopters are now taking an interest in this emerging technology. They are securing relevant domain names in anticipation of future growth, underscoring the importance of getting involved before it becomes mainstream.
Conversely, we can also identify a noticeable downward trend in specific keywords such as Masks, whose demand is rapidly decreasing in response to the easing of COVID-19 pandemic restrictions.
Similarly, the declining interest in keywords such as DVD Rental and MP3 Players can also be noted, largely attributed to advancements in technology in recent years.
How can we benefit from the Emerging Keywords?
The implementation of Emerging Keywords now allows you to stay updated with what's hot globally. For instance, taking a look at the top trending terms from the past week reveals that "Vision Pro" and "Spatial" domains have gained the spotlight, thanks to Apple's forthcoming Spatial Computer known as "Vision Pro."
Beyond tracking familiar topics or events reported in the news, Emerging Keywords serve as an effective tool to observe the recent actions of prominent companies. For example, before Facebook's parent company changed its name to Meta, it had already registered a large number of related domain names like MetaFacebook, MetaFB, etc. for brand protection, even before the press release announcing the company's name change.
With Emerging Keywords, you gain a competitive advantage by uncovering market trends and understanding the future path of prominent companies, empowering you to actively plan and make well-informed investment choices.
Haven't subscribed yet? Unlock the full potential of dotDB and boost your productivity by subscribing now!